It wasn't hers!!!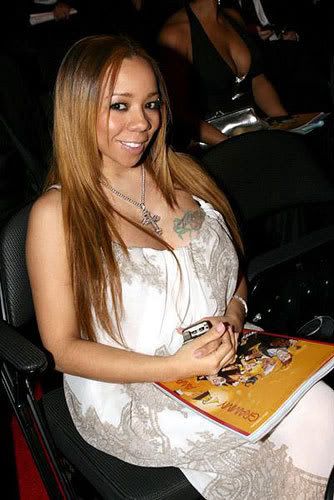 I just got off the phone with Tameka "Tiny" Cottle who spoke to me from her home in Atlanta.
By now you've probably seen the photos on the web showing Tiny, who is obviously pregnant, at a party holding an alcholic beverage in her hand. Tiny assured me that the wine wasn't hers. She also said the scene was not inside a nightclub, it was at the private home of Atlanta entertainment attorney, Charles Mathis.
"Charles Mathis gave Tip a big ol' giant bottle of wine as a gift - they're both wine fanatics - and Tip said, 'What am I gonna do with this big bottle? Let's open it and drink it. Here, pass it on to your homegirl,'" recalls Tiny. "I was holding [the wine] for the girl next to me, Monica, and she had something in her hand. The photographer asked if he could take a picture and I was holding the glass, but it wasn't mine. I guess he snapped a pic of me. I had a glass of Sprite sitting down beside me. I haven't seen [the pictures] but my girlfriend called me and told me about it and as soon as she described it, I knew exactly what she was talking about."
So, there you have it. Tiny's fans know she would never drink alcohol while she's pregnant. This isn't even the reason I called though. I called to speak to Tiny's mom, Dianne Cottle, who is so nice to talk to. She has so much wisdom and insight, and she loves to speak with Tiny's fans.
During our conversation, I brought up the fact that my readers were emailing me those pics. And Dianne said, "Do you want to talk to Tiny? She's right here." When Tiny came to the phone, I realized I had never heard her phone voice before. She sounded so cute on the phone. I'm happy that I was able to talk with her personally to clear that controversy up for her many fans who were concerned about her.
We also talked about her Tiny's dad and his group The Tams who will be performing in Atlanta on March 31st. And we talked about her daughter Zonnique and the different projects she has coming up. I'll keep you informed as I get more info.